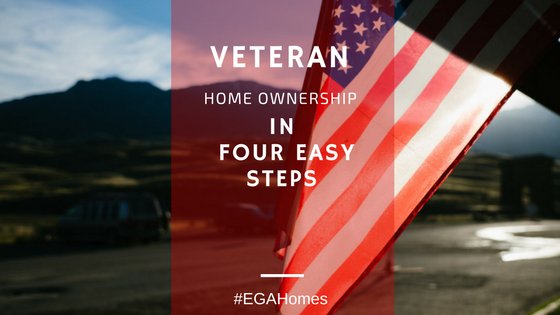 We know that you take home ownership seriously regardless if you have done the process before or it is your first time. We can all agree that being smart is going to be a top priority with any real estate transaction.
That being said, if you are a veteran, the smart thing to do is take advantage of a VA loan to help get into a home.Right? Lots of people would love to take advantage of zero down. The even smarter thing to do is let a veteran owned and certified business guide you in this process. The best people to guide you in the this process are your own military brothers who have been in your place and know exactly what you need.
Here are the steps:
Step 1- Understand Your Own Money
It is easy to want to rush out online and start browsing places to live(feel free if you want). But its essential we get your finances looked at before anything serious happens.
Credit Check – As a military veteran we all know you can have some weird credit challenges. We can work with you to get your credit repair back in the right direction. If you want, we have an in-house lender who has years of experience dealing with VA Loans.
Pre-approved – Getting this done means no one is going to waste time. A real estate agent will know what houses to show you and you won't be looking at houses you can't afford. This means you will not be missing out on other homes that don't stay on the market very long.
Step 2 – The Loan
Once you have the finances in order, you will want to find out if you are eligible for a VA loan, the benefits, and what options you will have.
You are eligible if you meet the following requirements:
Served 90 consecutive days of active service during wartime
Served 181 days of active service during peacetime
You have more than 6 years of service in the National Guard or Reserves
You are the spouse of a service member who has died in the line of duty or as a result of a service-related disability
Questions about your eligibility? Call (951) 977-3421 to speak with our specialist today.
The VA Loan is backed by the government, but will still come from a private lender. We truly think it is one of the most home buying tools you can use.
benefits include:
No down payment requirement
No PMI ( mortgage insurance )
Lower interest rates
closing costs limits
ideal for lower credit requirements
"If I qualify for a VA Loan, should I automatically take advantage over all other loan types?"
Not Necessarily. Remember:
You can reuse a VA loan if the first one is payed off.
looking at a "fixer upper"? The VA Loan is for "move in ready" homes. This means it is not the right type of loan for investment properties.
Use another loan if you are looking at a property that will not be your primary place of residence.
If you can put more than 20% down on a house, it might be smart to consider a different loan to avoid the VA funding fee.
Our in-house lender is an expert in dealing with all types of loans and clients who are curious about what type of loan is best for their situation.
Step 3 – Home Search
After step 1 & 2 are finished, it is now the best possible time to start actually looking for a home. You know how much you can afford, how you are going to pay for it, and you are pre-approved for your agent to give you the best homes to look at.
We always recommend to use professional help in real estate transactions, but this holds especially true with VA Loans.
Question: When should I buy with a VA Loan?
Answer: Generally speaking, the same strategy applies for buying a home. The biggest difference being that veterans are more likely to move and sometimes don't have much time to plan these things out. This is not a deal breaker as long as you are represented by a true professional that understands the seasons of real estate.
Agents at EGA Homes are trained for the unique requirements of the VA loan. They also have the single best veteran resource at their disposal anytime their clients need help. A veteran agent ( or trained) with the resources of a veteran owned real estate business like EGA Homes means this process is second nature to us.
Anyone who has been in active duty or served in the military knows that there is a passion to serve those who have served. Even though we are full service real estate company, the needs of our veterans always have a special place at EGA Homes.
With a VA Loan, you are going to be searching for a home like any other loan, just make sure that you have made this clear with your real estate agent from the start.
Step 4 – Contract and Close

How do I make the perfect offer using a VA loan? The number one thing to keep in mind is the inspection and the condition of the home being purchased. Although you might hear A VA Loan buyer can be a turn off for a seller, but sellers that see offers come from a VA Loan will know that buyers are very serious and qualified.
Anyone that has been in the military knows that sometimes you need a home very quickly. This mean when you are shopping for homes, be prepared to have multiple homes ready to give, even while working with your top choice.
Inspections & Appraisals
Both of these things should happen before you close. In fact, the appraisal is required by to use the VA loan. This is America trying to make sure you get a great home. Your lender will order the appraisal on your property while your agent or real estate company should recommend quality home inspectors.
Do you qualify?
If you want to work with a veteran owned and operated business that understands your needs best (we are veterans), give us a call today to start getting qualified for your VA Loan!
———————————————–


EGA Homes is a Real Estate Agency whose purpose is to enrich the lives of our clients, agents and community through home ownership by delivering results with integrity, knowledge, and passion.